Don't judge me or anything, but I'm actually (whisper) quite excited about the start of term next week. It's all Twitter's fault really, with so many excellent #BackToSchool blogs circulating recently it's hard not to get swept along with all the positivity and good advice!
I've collected together this short summary of some of the best articles I've read over the last few days, and that I think Wellacre staff will be most interested in. It's not supposed to be exhaustive, and if you like what you read then I thoroughly recommend following all of these authors on Twitter – there's a ton more where this came from.
There's a section further down that's particularly for NQTs, but in the main there's thought-provoking stuff here for all teachers, not just those new to the profession. Enjoy!
Reflecting on last year and planning for a new term:
The perfect teacher by @HuntingEnglish – this short guide to 'imperfect success' really hits the nail on the head about how we'll never be perfect as teachers and why we shouldn't really want to be!
Reflecting on teaching in 2013-14 by @benneypenyrheol – one teacher's viewpoint on tweaking his practice after 15 years' experience and not 'sticking to the routine'.
David Didau's fantastic 'Back To School' blog series – Didau (@LearningSpy) on Routines, Relationships, Planning, Marking and Literacy. Highly recommended.
'Big ideas' that link to this year's focus at Wellacre:
Contemporary educational ideas all my staff should know about by @headguruteacher – headteacher Tom Sherrington on the importance of having a shared language for talking about teaching and learning across a school. If you only watch a few of the video clips here then we'll be well on the way to doing that at Wellacre.
Video CPD library by @Shaun_Allison – some crossover with the previous link, but well worth a look for the sheer quality of what's available here. Shaun has collected together some of the very best video clips for developing teaching & learning. A must-see.
Top ten evidence-based teaching strategies by @shaunkillian – We know that some teaching strategies seem to work better than others, right? Here's a handy list of those with the most research evidence behind them.
For those new to (or unconvinced by) Twitter:
Twitter for Teachers by @SparkyTeaching – a 'slightly leftfield' guide to using Twitter as a teacher, especially good for those who haven't used Twitter before and aren't sure what it's all about.
Ten tips for tweeting teachers by @TeacherToolkit – divided into 'beginner', 'intermediate' and 'advanced, designed for teachers new to Twitter, or for those who have started out and need advice.
Particularly for NQTs:
100 NQT tips by @Sue_Cowley – does exactly what it says in the title. Snappy and to the point.
Just Keep Swimming by @MissJLud – thoughts on how to make the most of your time in the first year without sinking or burning out. Recommended.
How to teach… Behaviour management by @GuardianTeach – Behaviour is often at the forefront of NQTs' minds, reassure yourself with this collection of straightforward tips and strategies (and links to even more).
Behaviour management resources by @TESbehaviour – Including some brilliant tips and video clips from behaviour guru @TomBennett71
And finally…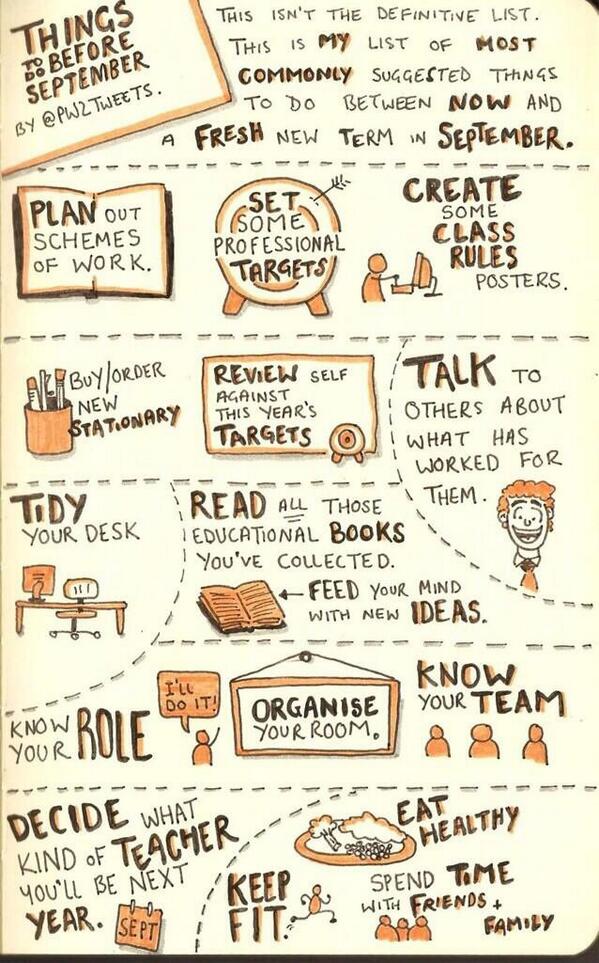 Enjoy what's left of the holiday!